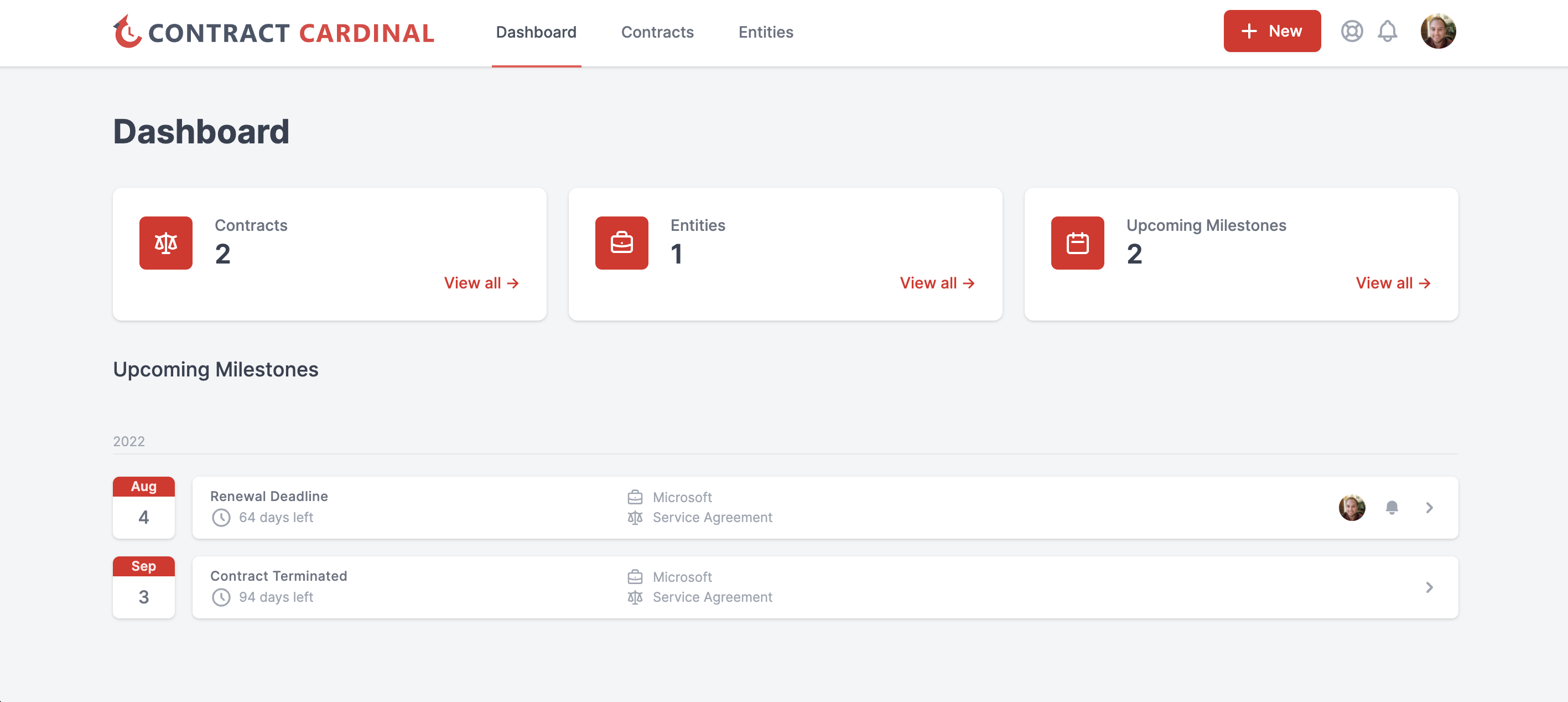 Eliminate key person risk
Contract Cardinal was designed to eliminate key person risk — the stress you feel when it's up to one person to make sure contractual obligations aren't missed. Whether you manage the contracts yourself or someone on your team does, contractual deadlines are often too important to fall on a single person. We can help with that.
"We created Contract Cardinal after seeing a need in our own careers for businesses and teams to quickly and easily manage contracts. Notifying our team where they are most — Slack and Teams — made sense and didn't exist in the marketplace at an affordable price. So, we created it."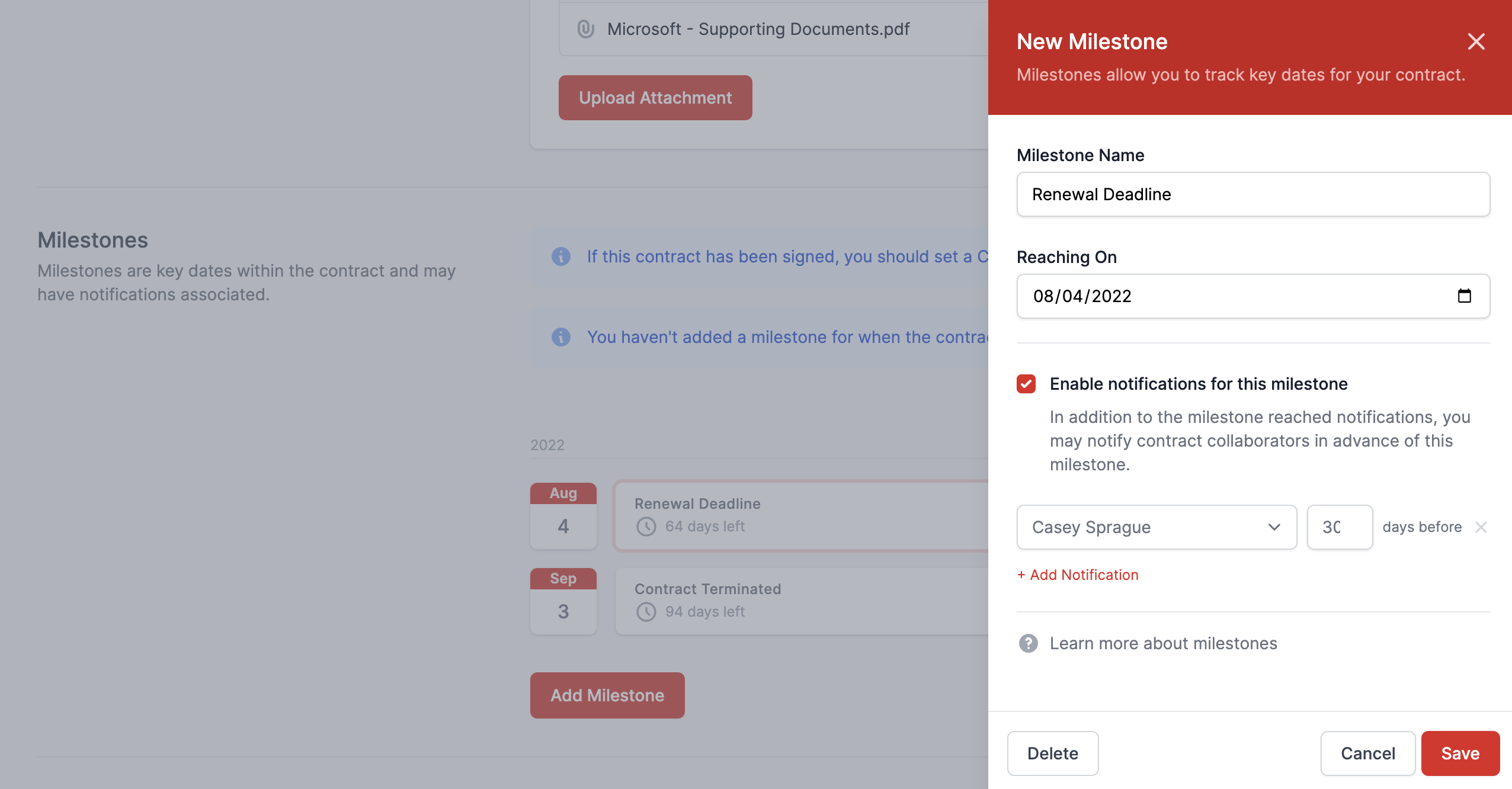 Collaborate across your team
Contract Cardinal is designed to be the central repository for all of your contracts. You can upload your PDFs, track version history, assign team members to a contract, and more. Get all of the emails out of your inbox, and organize all of your commentatary in one place.
"Contract Cardinal replaced a spreadsheet that I used to manually track everything. It feels like it was designed just for me, and it's incredibly helpful for tracking software contracts with our vendors and engagement agreements with our hourly consultants."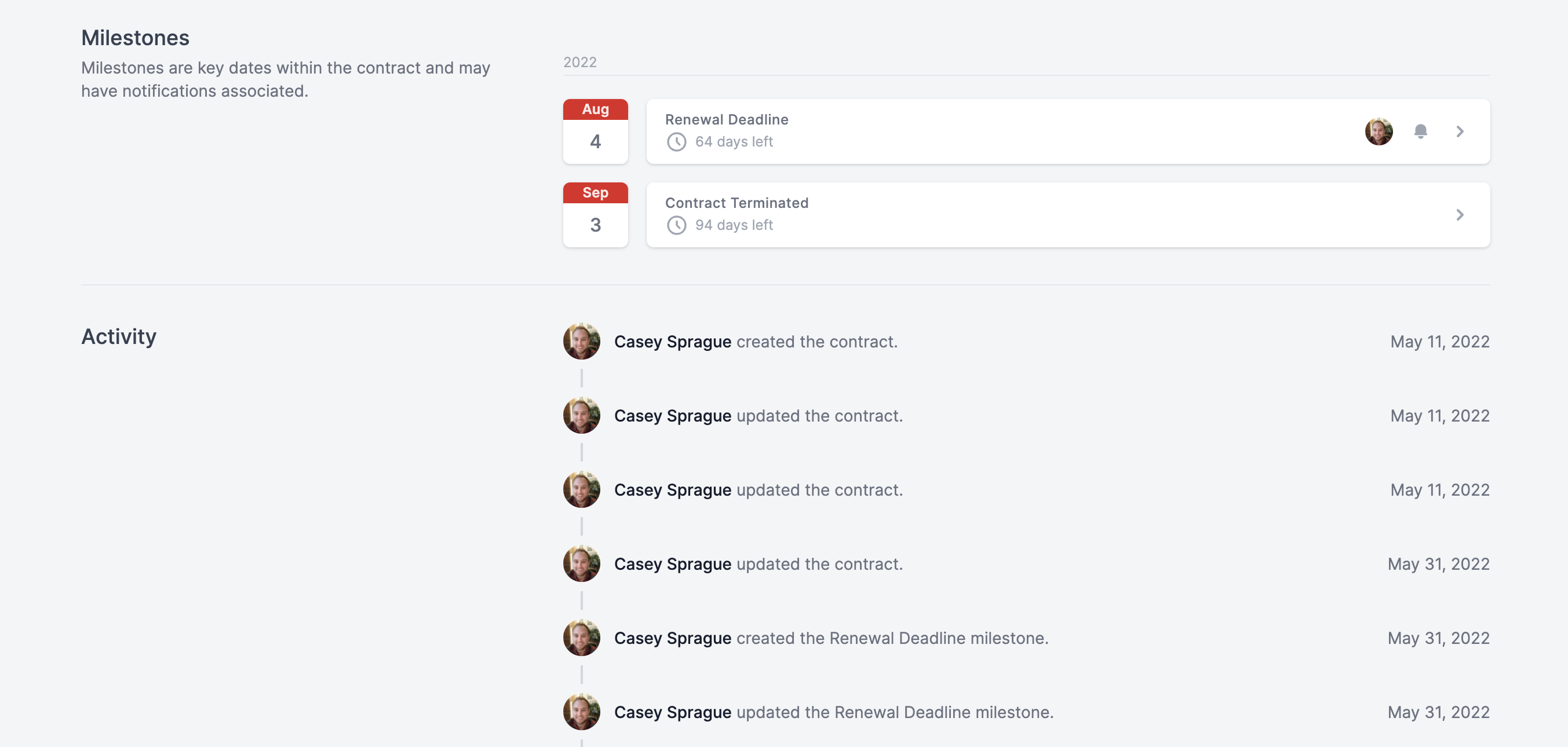 Built for awesomeness
We've carefully and obsessively crafted each feature to add value and eliminate noise, with a goal of maximizing your productivity and getting you back to thinking about fun stuff.
Store Documents
Documents are stored on our secure cloud and backed up nightly to secure storage. Contract Cardinal is built by a team with experience in complex HIPAA compliant apps.
Work with Team Members
Invite others to create an account on your team. Each member can be granted administrative permissions, view only permissions, or you can just add them to specific contracts.
Milestones
Milestones are important dates related to your contract. You can add as many as you want, assign team members to each, and choose when each party should be notified.
Version History
The principal contract document is version controlled, and you can restore to previous versions. You can also upload supporting documents for reference.
Slack Integration
Alert your entire team when a milestone is reached, even if they don't have a Contract Cardinal account. Milestone notifications can be sent to any Slack channel via Webhook.
Microsoft Teams Integration
Just like with Slack, milestone notifications can also be sent to your Microsoft Teams channel with all of the same features.
SMS Notifications
Team members can get Milestone notifications via email or optional SMS.
Comment on Contracts
Declutter communication channels by organizing all of your contract discussions in Contract Cardinal. No more sifting through email threads for attachments.
Frequently asked questions
Do you have a signature workflow, or integrate with DocuSign?

No, although that's something we're considering. Contract Cardinal was originally designed to be a contract repository and milestone management system.

Why "cardinal?"

We thought that the cardinal was an appropriate mascot because they occasionally go bald and run into windows more than other birds, and we just resonated with that.
Pricing plans for teams of all sizes
Finally, a contract management solution that's affordable for small and medium businesses. No more "enterprise" price gouging. Sign up today to start your 14 day trial.
Nestling
$10 /month
The essentials. Ideal for individuals and small teams trying to figure out how Contract Cardinal can fit into your workflow.
10 contracts

Track milestones

Email, SMS, Slack & Teams notifications

Document upload

Premium support
Start Trial
Fully Grown
Definitely pick this plan!
$40 /month
Ideal for teams with a larger amount of contracts, and for heavy-duty collaboration throughout your team. We even put extra red hoping you'd pick this plan!
Everything in the Nestling plan

Unlimited contracts

Comments & Collaboration Features
Start Trial
Managing contracts became a big pain point for our team as our business grew. Contract Cardinal is great for managing both our vendor and client contracts; NDAs, SoWs, renewals, and pretty much anything else that comes up. It has helped us to know where all of our contracts are and lets us manage them seamlessly.